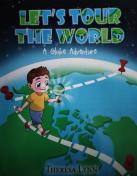 LitPick Review

A young boy and his family are planning a summer trip, and the boy spins his globe, looking at all the wonderful places on earth he can travel to. Then all of a sudden, his globe starts to glow magically! He is transported into the ocean he is looking at and experiences it from a beautiful boat. He realizes that he can magically transport himself to anywhere on the globe, and travels from place to place, observing the beautiful sight of earth's deserts, mountains, and land. Finally, he spins the globe one last time and travels home, knowing that anywhere he and his family choose to travel will be unique and amazing, and they will "love it so"!
Opinion:
This book was a quick but fun and interesting read. My favorite things about this book were the illustrations and the imagery used in the writing. While reading this book, looking at the illustrations and reading the imagery really made you feel as if you were experiencing everything along with the little boy. Additionally, I really liked that the author included a vast diversity of places throughout the world, as the different types of land and conditions showed that each spot on earth is unique. I think that this book would be excellent for younger children since the illustrations and imagery makes the book easy to understand, and children are able to learn about the diversity of the world from it.
Explain your content rating:
There is no content unsuitable for children in this book.
KEYWORDS
CHARACTERISTICS AND EMOTIONS:
ACTIVITIES, HOBBIES, PLACES, AND EVENTS: