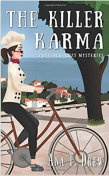 LitPick Review

Julie Cavallo, the main character of The Killer Karma by Ana T. Drew started off her amateur detective career in Book 1 of the Julie Cavallo Investigates series, The Murderous Macaron. In that adventure, Julie and her friends successfully exposed the facts of Maurice Suave's murder. But after Julie is almost killed by Suave's murderer, her friends decide it is time to put their amateur sleuthing to rest. And Julie agrees - after all, besides her skills as a blooming amateur detective, she is a brilliant gluten-free pastry chef who's new pâtisserie could really use her attention. But as The Killer Karma starts, her plan to abandon sleuthing is thrown out the window after her sous chef Eric's father is murdered. Not only is Eric her business partner and loyal employee, he is also Julie's friend and previously, her fellow detective - she has no choice but to help him! But as Julie soon finds out, Eric is in even more trouble than she thought: he is the police's number one suspect! Julie is sure Eric didn't murder his father and is determined to prove his innocence. But she can't quite shake the worry that her findings will actually incriminate her friend. Will Julie be able to solve this case? Will doing so clear Eric's name?
Opinion:
The Killer Karma by Ana T. Drew is a fast-paced and thrilling mystery. Its suspenseful and multi-faceted storyline makes this book hard to put down, keeping the reader curious about who the murderer could be all throughout the story. This "cozy mystery" eliminates the violence but not the thrill found in other murder mysteries. One thing I enjoyed even more about this book than the previous book in the Julie Cavallo Investigates series, The Murderous Macaron, was the number of characters. While I struggled a bit to keep track of all the secondary characters in the first book, I thought that this book contained the perfect amount of characters. I would strongly suggest reading The Murderous Macaron before The Killer Karma. While Ana T. Drew spends some time briefing the reader on the most pertinent aspects of the previous book, I felt like I was really connected to the characters as a result of reading the first book which weaves in so much of their backstories. Reading both books creates a feeling of investment in the characters and desire for everything to work out for them that I don't think can be created by reading just the second book on its own. I highly recommend The Killer Karma for mystery-lovers ages 12 and up.
Explain your content rating:
This book contains no religious, violent, or mature content.
KEYWORDS
CHARACTERISTICS AND EMOTIONS: