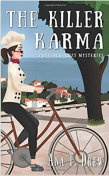 The Killer Karma
Pastry chef Julie Cavallo unmasked a killer.
Life is good once again…
until her sous chef becomes a murder suspect.

Julie is certain Eric didn't kill his ex-con dad.
The question is, can she prove it to the lead investigator?
Alone she can't.
She needs Beldoc's best — and, ahem, only — amateur sleuth team to get back in the game.
Luckily, her shrewd sister, their feisty grandma and toe-worshiping dog are up for the challenge.
Besides, Julie hopes to enlist the help of one hot gendarme...

Clueless but committed, the detective trio sets out to expose the real killer.

"The Killer Karma" is the second murder mystery in a new series of atmospheric, humorous whodunnits set in Provence.
Support LitPick by purchasing this book here.
Thank you!