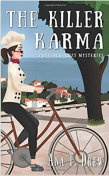 LitPick Review

In the second book of Julie Cavallo Investigates, Julie has just solved the murder mystery of Maurice Sauve, but now another murder occurs. When Eric, Julie's trusty sous chef is suspected of murdering his father who recently got out of jail, Julie tries to figure out who the real murderer is so she can clear Eric's name. Julie interrogates many people to figure out the truth. She has help to uncover the secrets as well: her sister, Flo, and her grandma, Rose. Brice Dol, Eric's dad who was murdered is now another mystery that Julie and her family are trying to solve. Will Julie figure out who killed Brice? Why would they want to kill him?
Opinion:
The Killer Karma was a great sequel that I think was better than the first one, The Murderous Macaron. The two elements that really made me enjoy the first book were the characters and the fact that I could relate the content to other books I have enjoyed. Those two appealing elements are still present in The Killer Karma, which makes me enjoy it as well. However, what sets the sequel apart from the first book is that it is action-packed and thrilling and keeps the reader captivated and puzzled about who the real culprit is. The quicker pace of the movement of the plot is a huge improvement from the first installment of this series, and even though I'm not typically attracted to mysteries as a genre, this one piqued my interest. I would definitely recommend the second part of this series to anyone who enjoys mysteries, aged 10 and up; however, I think that children, as well as adults, would enjoy this series and have a fun time reading.
Support LitPick by purchasing this book here.
Thank you!
Explain your content rating:
KEYWORDS
CHARACTERISTICS AND EMOTIONS:
ACTIVITIES, HOBBIES, PLACES, AND EVENTS: