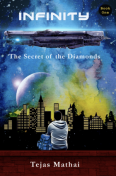 LitPick Review

WATCH THIS LITPICK BOOK REVIEW VIDEO!

If The Hobbit took his adventure in the realm of Star Wars, it would certainly describe Infinity: The Secret of the Diamonds by Tejas Mathai! He has created a protagonist that is easy to get behind and that you root for, while also giving significant detail to setting and intricacies of his world.
Jack Stone is any normal 18-year-old living in New York City...except his dad is not being himself and suddenly three members (and a robot) of the Infinity Corps are knocking at his door! Sucked into a war he didn't even know existed, Jack is soon fighting alongside his new friends from outer space to protect the five Infinity diamonds from the evil mastermind bent on using them for his own means.
Opinion:
A science fiction novel told with a large dash of heart and a little dash of humor, Infinity: The Secret of the Diamonds is a fun, easy-paced, space-packed read. I enjoyed the description of the characters, settings, and items in the novel - these made for easy "picturing" of the action in my mind while I was reading. I also liked the connections Jack had with other characters; Jack and Anne's chemistry seemed very natural, as did Jack and Wayne's easy friendship.
I feel this book will appeal largely to readers 12-15 and will really appeal to male readers in this age range. I would suggest this to someone who is maybe leery of reading or just looking for a great book to get them hooked!
KEYWORDS
CHARACTERISTICS AND EMOTIONS:
ACTIVITIES, HOBBIES, PLACES, AND EVENTS: