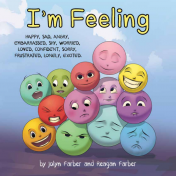 LitPick Review

I'm Feeling is a picture book about characters who express how they feel as they go through different emotions. They not only demonstrate emotions but also explain how to fix those that are negative, such as sadness, anger, or frustration, without taking it out on others. It includes a fun coloring project, as well as multiple activities through which the reader can express his or her feelings by doing arts-and-craft activities. The book also features a cut-out activity, through which the reader cuts out faces to show different feelings. Reading this book raises awareness and appreciation of positive mental health.
Opinion:
I'm Feeling is a wonderful book that shows how various emotions are expressed through thoughts and body expressions. The book uses great examples of times when one might feel lonely, sad, worried, or excited. Although it seems like an easy book, it portrays emotions in a thoughtful way. It also tells readers how to show empathy for others when they feel "down in the dumps."
This book teaches me to realize when other people are feeling certain emotions and how to help them get through those. I love that this book shows how others feel through a unique point of view. I recommend this book to kids ages 5 to 10, because it explains feelings in a way that young readers might not have considered before.
KEYWORDS
CHARACTERISTICS AND EMOTIONS:
ACTIVITIES, HOBBIES, PLACES, AND EVENTS: