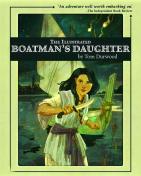 Age Range -
Mature Young Adult
Genre -
Historical Fiction
LitPick Review

The Illustrated Boatman's Daughter is a historical fiction book telling the story of a 14 year-old Egyptian girl on her mission to save Egypt from devastation. She is accompanied by friends and allies against the schemings of the Europeans, who seek to dominate trade through the construction of the Suez Canal. Having grown up a boatsmen's daughter, she sails and adventures through the rivers of the Nile to save her country.
Opinion:
I enjoyed this tale of young Salima. One can really visualize the surroundings, and since I am not very familiar with Egypt, I appreciated the descriptions of the landscapes and the beautiful nature of Egypt. There is a real sense of community within the native peoples. The author obviously put much effort and research into this story, and you can tell that he is passionate about history, which caught my attention more than anything else. I find it inspiring when someone can take a historical event and make it appealing to the general public, entertaining them yet educating them at the same time. There were a few misspellings and mistakes in the plot such as a first captain later on being referred to as a second captain and Khalil being referred to as Khalid multiple times, but those are only technical things that any author would run into. Storywise, this was a very compelling plot; I wish I could have seen it as a movie similar to how I saw it in my head. The artwork was stunning! As an artist, I liked the creativity of the art and the opportunity that was given to the artists to contribute. I would recommed this book to people about my age and who have an interest in history as this is very educational and makes multiple references to different historical figures around the world. I wouldn't recommend for very young readers as there are some intense scenes. All in all, bravo.
Explain your content rating:
Intense action, minor profanities, brief executions.
KEYWORDS
CHARACTERISTICS AND EMOTIONS:
ACTIVITIES, HOBBIES, PLACES, AND EVENTS: