The Illustrated Boatman's Daughter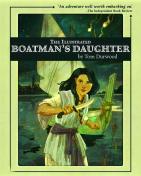 The Illustrated Boatman's Daughter
Watch what you wish for!! Young Salima is treasured by her father and her extended family of river-people. Yet she feels trapped. She longs to see the world beyond the Nile.

Fate arrives in the form of an invitation. The Dutch agents who help supervise the construction of the great Suez Canal need a native, someone known to the people, to retrieve stolen equipment. Salima and her new friend, Emile, are chosen.

The two girls find that shadowy forces stalk Egypt. As she circulates through Cairo and the lands beyond, Salima discovers that her people have been enslaved to dig the Canal, working without food, pay or respite. She demands fair treatment, and wins from the lazy Pasha a contract calling for good pay and safe working conditions.

Richly illustrated edition of a young-adult historical fiction novella.