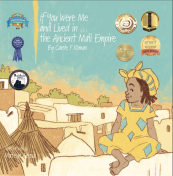 Genre -
Historical Nonfiction
LitPick Review

Have you ever wondered what it would be like to live in another time and place? Find out what life would be like in ancient Mali! In If You Were Me and Lived in...the Ancient Mali Empire, readers learn about family life, houses, school, and so much more! The book includes helpful pronunciations and definitions.
Opinion:
If You Were Me and Lived in…the Ancient Mali Empire is a thrilling book for young readers—not only fun but also educational. The story is accompanied by illustrations, which are helpful for visualizing the Malian environment. The pronunciations and definitions are very useful for readers who don't know much about the Mali Empire. This book is a great read-aloud for a classroom of students and a fantastic book for kids who love history.
Explain your content rating:
There is nothing offensive in this book.
KEYWORDS
CHARACTERISTICS AND EMOTIONS:
ACTIVITIES, HOBBIES, PLACES, AND EVENTS: