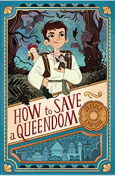 LitPick Review

Stub-the-Nuisance's life has been as miserable as her name. Abandoned at a tavern doorstep as an infant, she's apprenticed under the abusive Matron Tratte for as long as she can remember. The only thing keeping her laboring in the tavern day and night is her friendship with a chicken named Peck and the knowledge that if she runs away, she will be found guilty by the law and dragged back to the matron.
When a grumpy, thumb-sized wizard named Orlen appears in Stub's pocket, his ravings about an evil witch coming to disturb the queendom's peace change everything. Even a dangerous quest to save the queen is preferable to slaving under Matron Tratte forever. With the assistance of a young, naive cook named Beaman, Stub and Orlen set off to warn the queen about what's to come.

Yet, does Stub truly know what's to come? As accounts of rival queens and rebellions unravel before her eyes, Stub must choose who to trust while escaping from Matron Tratte's searching eyes. If the trio fails, an entire queendom could fall victim to the most dangerous type of magic there is.
Opinion:
This book was incredibly wholesome! Everything from the setting to the characters to the plot grew more loveable over time. At first, the slow pacing and Stub's passive personality grated on me, but things took off once Orlen appeared and the trio set off on their mission. Compelling writing combined with intricate worldbuilding highlighted a beautifully chaotic seaside setting. I love Beaman wholeheartedly; he's a shy baker rooted in goodness and wisdom à la Peeta Mellark. Stub's unwavering friendship with Peck was similarly adorable and paired off well with her character development. Not to mention, the ending was flawless. It was cathartic, (bitter)sweet, and tearjerking, all in the best ways. My time with Stub felt worth every page. The one thing I would say is the friendship between Stub and the queen felt rushed and rather implausible. Although I enjoyed the queen's feisty character immensely, she seemed too trusting of strangers considering her royal position. Overall, with a Descendants 2–esc setting and court intrigue in the vein of Isabel Ibañez's Woven in Moonlight, this was a wonderful middle-grade fantasy book!
KEYWORDS
CHARACTERISTICS AND EMOTIONS:
ACTIVITIES, HOBBIES, PLACES, AND EVENTS: