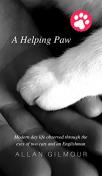 Age Range -
Mature Young Adult
LitPick Review

A Helping Paw by Allan Gilmour is an interesting twist on a self-help or best-life novel. Gilmour uses his two feline companions, Mr. Fred Midnight and Sir George Francis Winston, to give input on decisions and their outcomes for all "humans." Gilmour starts each chapter with a quirky description of where the two felines are currently hanging out and what they are doing there. Then, Midnight and Winston soon turn their current situation into a speculation on human behavior - with reasoning behind decisions and the outcomes they garner.
Examples of Midnight and Winston's musings include being a gentleman, overusing electronic devices, how your actions (even not doing something) can lead to an unwanted reality, and how to truly be yourself. These musing are enlightening but also entertaining as they are taken from the eyes and minds of cats - who probably think humans are entirely silly most of the time anyway!
Opinion:
As a feline lover myself, the idea of this book struck my fancy! It is amusing to me to look at "normal" behaviors or actions of humans through the eyes of a creature that wouldn't understand them. How quickly such behaviors seem trivial or even a waste of time. Allan Gilmour uses his two feline companions to show the reader how such actions can have consequences on not only your daily life, but also your physical, mental, and emotional health. He stresses the importance of remaining true to yourself and not allowing yourself to be drawn in by what is new or flashy.
Overall, this book offers good lessons for anyone, not just cat lovers! Teenagers or adults, both male and female, will find a great piece of advice among these pages.