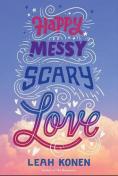 LitPick Review

Happy Messy Scary Love follows a 17-year-old girl named Olivia Knight who is a passionate horror movie lover. She absolutely loves them and discusses her hobby with an anonymous friend she has found on Reddit. Olivia tried to get into New York University and unfortunately failed because she waited until the last minute to start the admission process. One day, her anonymous Reddit friend, aka Elm, sends a picture of what he looks like and asks for a picture of her in return. The problem is that Elm is actually really good-looking, and Olivia can't seem to take a good enough selfie to send to him. She decides to send him a picture of her blond hair, blue-eyed best friend instead, and a crazy surprise occurs at her new job that affects everything terribly. After lying and lying again to save herself, Olivia's friends get very mad and upset with her. They get mad because of the many lies she has spoken and instances where she is being very selfish. Olvia finds herself having an eventful summer that consists of best friend fights, finding new friends at her zipline job, her NYU dilemma, and many more instances of drama.
Opinion:
Happy Messy Scary Love is an amazing and entertaining romance that I couldn't stop reading. I was so invested in the story and had to figure out what would happen with the characters. The author did a great job of hooking the reader into the story and kept my interest throughout the book because of the intriguing conflict. I found myself rooting for Olivia, the main character, and I had to keep on reading to make sure that everything would turn out good for her in the end. Many teenage girls can relate to Olivia because of her horror movie hobby and the struggles she goes through that many other girls also go through. For example, she has acne problems, doesn't get accepted into college, she's introverted, and has many more struggles that can be relatable to teenagers. I also related to Olivia because I am an introvert, so I saw many similarities between us throughout the novel such as not having many plans and staying at home most of the time. One thing that I did find is that some of the dialogue between characters was a little unrealistic because the way they spoke to each other seemed like they were older than seventeen. Happy Messy Scary Love was very similar to Alex, Approximately by Jenn Bennett, which is one of my favorite romance books, so I was very excited to see that they were alike. I think that many teenagers would enjoy their time reading this book.
Explain your content rating:
There are some cuss words said in this book, but nothing major.
KEYWORDS
CHARACTERISTICS AND EMOTIONS:
ACTIVITIES, HOBBIES, PLACES, AND EVENTS: