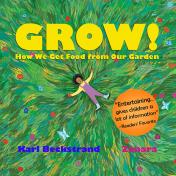 LitPick Review

Grow! How We Get Food From Our Garden features a young girl and her grandfather growing plants in a luscious garden. The book outlines the steps of their gardening process like tilling, planting, watering, and harvesting the produce. As the characters wait for the produce to ripen for harvest, the author includes some other parts of nature such as lively animals and their eating habits and other plants outside of the garden such as tall trees and colorful flowers. As the gardening process comes to a close, the author includes various types of produce found in the garden that the girl and her grandfather will eat. The produce is vast and contains some interesting vegetables, fruits, and herbs that will make readers' mouths water.
Opinion:
Grow! How We Get Food From Our Garden is a nature-filled adventure perfect for young readers. The illustrated picture book offers vivid colors of plants and animals to capture readers' attentions. Also, the literature is a great challenge for younger readers because the author includes rhymes and other literary devices like alliteration. The vast inclusion of plants, vegetables, herbs, and gardening lingo will have young readers searching for a dictionary to learn more about the vocabulary and ultimately increase their knowledge of plants and nature. Additionally, it will increase their understanding of project completion and rewards of hard work and patience. This picture book invites readers in with vivid illustrations and sparks their desire for learning with tongue-twisting vocabulary.
Explain your content rating:
This is a children's picture book.
KEYWORDS
CHARACTERISTICS AND EMOTIONS:
ACTIVITIES, HOBBIES, PLACES, AND EVENTS: