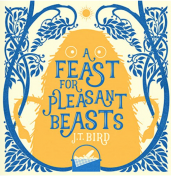 LitPick Review

A Feast for Pleasant Beasts is a children's picture book written by J.T. Bird and illustrated by Andy Catling along with the cover art by Andrew Davis. This is a story of a little boy by the name of Cuthbert Wormhilll who lives in a cave with some of his friends like bats and other small animals. Cuthbert decides to have a picnic and invite all the pleasant beasts out for a fun day of food and games. Cuthbert invites all these friends and tells them that they should bring one of their favorite dishes to eat for all to enjoy. They will also be playing games including their favorite called Spoons and Eggs. Cuthbert has friends that range from a troll to a yeti and all get along for they each have a special talent from music to movies to magic, and other talents that they like to share with each other. Cuthbert and his friends eat, drink, and play, and then sit around a campfire to listen to stories and sing songs. They then say goodnight.
Opinion:
J. T. Bird has written this children's picture book for young children ages preschool to early elementary that is all about friendship and sharing. This story could also teach children how to make introductions to each other like Cuthbert did with his beast friends. Throughout the book, the format is that there is one page of words that describe the beast before the illustration of that particular beast that Cuthbert has invited. The words describe the brightly-colored pictures that Andy Catling has drawn showing the beasts' talents. The pictures also show how each beast feels for they are smiling in their own ways. It is a good touch that the words seem to be written on a yellow/orange pages with a black border around them. Also, I initially chose this book to review because I was drawn to the cover art by Andrew Davis. This is a fun book for adults to share with young children for the beasts are not scary. They smile and show their different personalities and talents. This book will bring a smile to all those who read it!
Explain your content rating:
This is a fun book to share and read.
KEYWORDS
CHARACTERISTICS AND EMOTIONS:
ACTIVITIES, HOBBIES, PLACES, AND EVENTS: