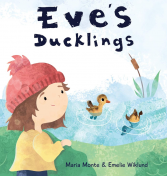 LitPick Review

Eve's Ducklings is a story about a young girl and her grandfather and their visits to a local park. At the park, Eve and her grandfather discover a family of ducklings, and Eve is instantly fascinated. She wants to know all about them and experience what it is like to hold, pat, and hug a duckling. Each time Eve tries to get close to the ducklings, something stops her! Eve is saddened by the fact that she cannot get close to the ducklings, and she wants to give up. Finally, Eve learns how to experience the ducklings and make them come to her on their own.
Opinion:
Eve's Ducklings is a heartwarming story about a young girl overcoming setbacks and discovering new ways to experience her interests. The author includes humor, sadness, joy, and animals, which is perfect for young readers. While the story could have been more developed, the author does a thorough job of displaying a beneficial life lesson for readers of any age: never give up, and find solutions that are outside of the box. Additionally, the book offers vibrant illustrations that will spark the imaginations of the young readers. Overall, Eve's Ducklings is a perfect book for young readers because of the literary elements and the lessons it addresses.
Explain your content rating:
This book is perfect for any age readers.
KEYWORDS
ACTIVITIES, HOBBIES, PLACES, AND EVENTS: