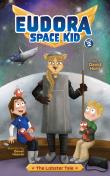 LitPick Review

Eudora Jenkins is always causing trouble around Athena, the ship in Astrofleet where she lives. She doesn't want to cause trouble; she just wants to have fun and test out her ideas. Eudora decides to change the PA system to play her favorite song during a battle-training exercise. Even though she gets in trouble, it's worth it to see how the adults acted when they heard the song! Then, Eudora finds out that her father is planning on giving some of his lobsters to the Captain to use in the New Year's Grand Dinner Buffet! Eudora needs to save the lobsters with the help of her best friend Arnold, no matter what it takes!
Opinion:
Overall, I really enjoyed reading this book. The plot was interesting, and I liked that the story took place in outer space in a spaceship. I also liked how there was a lot of diversity in the characters, from aliens to humans to animals. Even with these aspects of the book, I didn't feel confused when reading the book and found the storyline easy to follow. I also liked how the book was very consistent, and no one part felt boring. Lastly, I really enjoyed the imagery the author used to describe characters and settings as it really made me feel as if I was in the story myself. Even though this book is part of a series, I was able to read and understand it without reading the first book. I highly recommend this book to elementary schoolers looking for a fun and exciting read!
Explain your content rating:
There was no mature content in this book.
KEYWORDS
CHARACTERISTICS AND EMOTIONS: