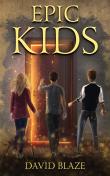 LitPick Review

WATCH THE LITPICK BOOK REVIEW VIDEO!

Jake just wants to be a cool sixth grader. One day, he gets invited to the "cool kids' table" at lunch with Amanda, Tony, and Darryl, who are new students that moved into Jake's town. Crazy animals start attacking all of them, and Jake is very confused. Tony, Amanda, and Darryl use magic and tell Jake that they are from a different world and Amanda is a princess in the world. They fight Prince Badood who is trying to take over the throne in the world. While Amanda, Darryl, and Tony are on Earth, they get attacked multiple times by animals that were used by Prince Badood. When Jake's mom tells him something astonishing about Amanda and him, he understands why he feels so connected to her and wants to protect her.
Opinion:
Epic Kids was a very suspenseful book because it left me on the edge of my seat, which caused me to want to read more. I liked how Jake was clueless about what was going on, and as a reader, I was very curious why animals were attacking them, why Amanda and Jake had a connection, and why other things were happening. At the end of the book it said, "The End and the Beginning," so I inferred that the author will make this a series, which I am happy about. There is nothing that I didn't like about this book. I would recommend this book to ages 8 and up and rate this book 5 of 5 stars because there were no flaws.
Explain your content rating:
There is nothing offensive in this book.
KEYWORDS
ACTIVITIES, HOBBIES, PLACES, AND EVENTS: