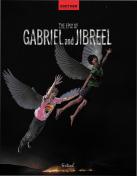 LitPick Review

Age at time of review - 29
Reviewer's Location -
Quezon City,
Metro Manila,
Philippines
View Lilily's profile
The Epic of Gabriel and Jibreel by Marin Darmonkow is a story about an unlikely friendship of Gabriel and Jibreel. Coming from different walks of life, the two formed a bond like no other. Sharing the same hobbies and passion of becoming pilots one day, they played and created a digital aircraft using Jibreel's house. It was a lot of fun! On the day that they were set to launch a digital take-off of their plane, an unfortunate event occurred that changed everything. Read on to uncover the adventures and friendship of Gabriel and Jibreel!
Opinion:
The Epic of Gabriel and Jibreel is a very relatable and timely story of friendship and underlying aspects of socioeconomic status, technology, and corruption. While children who would read this book would very much relate to the story of friendship and bond of Gabriel and Jibreel, little do they know that they are also being exposed and shown real-life happenings and misfortunes all because of the disparity between socioeconomic statuses. The book also discusses the use of advanced technology such as the toy Gabriel and Jibreel play with which is very relatable to the children of the modern times. The ending also exposes, subtly, the issues about corruption and politics. Exposure and discussion on these types of matters at this age is very crucial and important, and the book certainly did its part. The book is very well-rounded as it discusses issues that are relatable to its readers. To add to that, it has very good art, which shows a lot of textures and emotions. The text is also formatted in a way that is easy to read. Overall, Marin created an outstanding book, and it is recommended to be used for discussing friendship as well as other sensitive issues that the world is facing today.
KEYWORDS
CHARACTERISTICS AND EMOTIONS: