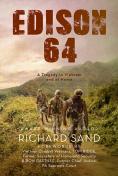 Genre -
Historical Nonfiction
LitPick Review

Age at time of review - 16
Reviewer's Location -
Spring Hill,
Tennessee,
United States
View moseso's profile
WATCH THE LITPICK BOOK REVIEW VIDEO ON YOUTUBE!

War has always been a terrible thing. It scars those who serve our country and those who watch from afar in unfathomable ways. To go down in history as the school that sent the most young boys to their deaths during the Vietnam War is undoubtedly a disturbing legacy.
When jobs became increasingly difficult to acquire (and the street violence became steadily worse), about 70% of people from Northern Philadelphia left to join the army. They theorized that it would be better to "get shot while in uniform and earning a paycheck than left dead in my street by some gangbanger who capped me for the fun of it." Hundreds of men from this area of the U.S. gave their lives in the Vietnam war. Sixty-four of them were from Edison High School, making this the school with the highest number of student deaths in a war.
Edison 64 is a heart-wrenching tale of several boys from this school who suffered tremendous loss and pain, and some who ultimately gave their lives fighting.
Opinion:
This story is one of the most gut-wrenching tales of tragedy I've ever read. Because of the truthfulness that is laced throughout this book, it hits home even more so than a nice fictitious sob story. It tells the tale of several young men from Edison High School who, pushed by high unemployment rates and low-income status, enlisted in the army and fought in the Vietnam War. The past of the school itself is a sad tale but should primarily be remembered as a place of community and brotherhood. To this day, this school remains and has a high standard for academics. In truth, this school only served as a home base for the hundreds of men that died for the sake of the war. Poor economic conditions forced the town of North Philadelphia to sacrifice the lives of its men so that the future would remain bright.
I would highly recommend this book for readers of all ages. It might be a bit heavy for younger readers due to the very nature of war, but this book would serve as a tremendous educational read-a-loud for all families. It beautifully tells the story of young men who fought in the Vietnam War and the school that united them all.
Explain your content rating:
Simply be aware of the context and content of this book before reading.
KEYWORDS
CHARACTERISTICS AND EMOTIONS:
ACTIVITIES, HOBBIES, PLACES, AND EVENTS: