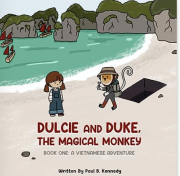 LitPick Review

Dulcie is new to Vietnam and much less adventurous than her parents; they're always willing to try something new. When Dulcie steps outside for some fresh air, she is in for a surprise when Duke, a magical monkey, takes her on a special tour of her new home. With his magic wrench, Duke opens doorways to the most beautiful places of the country and opens Dulcie's eyes to the wonder of a new culture. Now ready to embrace a big change, Dulcie learns the value of family, no matter where life takes you.
Opinion:
Paul Kennedy tells the story of young Dulcie and her magical monkey friend, Duke. Reluctant to experience Vietnamese culture, Dulcie sulks inside. When she meets a talking monkey on the street, his magic wrench entices Dulcie and offers the opportunity for her to learn that new things don't have to be intimidating, and might even be exciting. The relaxed writing style makes this story kid-friendly and pairs well with simple, yet culturally accurate illustrations. Showcasing beautiful landmarks, traditional clothing, and a variety of unique foods, the cartoon-style enlightens the youngest readers to the beauty of the unknown. A Vietnamese Adventure is book one in a series of magical adventures around the world with Dulcie and Duke, The Magical Monkey. With bits of humor laced throughout the dialogue, this book will encourage readers to explore new things with an open mind and even learn some geography along the way!
Explain your content rating:
Written with a child's perspective in mind, Dulcie and Duke is a sweet story with a positive message about new experiences.
KEYWORDS
ACTIVITIES, HOBBIES, PLACES, AND EVENTS: