Dulcie and Duke, the Magical Monkey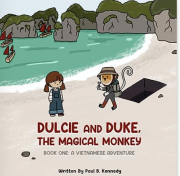 Dulcie and Duke, the Magical Monkey
Eight-year-old Dulcie has moved with her parents to Hanoi, in Vietnam. The city outside seems strange, the people are unfamiliar, and Dulcie doesn't want to try any new food. Luckily, Dulcie meets Duke, a monkey with a magical wrench. He can open a doorway to any time and place!

Hopping through Duke's doorways, the two new friends explore the wonders of Vietnam. Duke shows Dulcie fantastic floating markets, a magical lantern festival and the world's largest cave. They even visit a beautiful beach that was once home to dragons! Along the way, Dulcie is tempted to try the tasty Vietnamese food. But when she finally returns home to Hanoi, will she want to go traveling with Duke again?

A Vietnamese Adventure is the first book in a series that encourages children to be curious about the world. Based on the author's own experiences, this beautifully-illustrated tale passes on a passion for travel to a whole new generation. Young readers will identify with Dulcie, a child who's afraid to try new things. And they'll be delighted by Duke, a cute monkey who opens their eyes to the world. This exciting, fast-paced story removes the fear children often feel when they encounter new food, strange places and different cultures. By the end of this colorful, vibrant tale, they'll share Duclie's newfound excitement for exploring. This humorous, heartfelt story is an essential on every family's bookshelf; wherever they may be in the world.