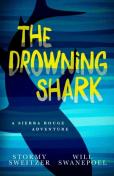 LitPick Review

The Drowning Shark by Stormy Sweitzer and Will Swanepoel is about the adventures of Sierra Rouge, an ordinary teenage girl who goes through extraordinary situations. Sierra's parents are both important people; her father is a famous chef, and her mother is a former CIA agent. Due to her parents getting divorced in her early childhood, Sierra grew up tagging along on her mother's missions, learning skills of her own along the way. Even after her mother dies, the adventures don't stop for Sierra. While living with her father in South Africa, Sierra learns about shark finning, an act of poaching that results in countless shark being killed, and quickly becomes passionate about it. But as Sierra continues to dig deeper into the issue, it soon becomes obvious it shares a connection with her past and present life. Follow along as Sierra tests her skills, meets new people, grows closer to loved ones, and works to find out the true cause of her mother's death.
Opinion:
Overall, I thought The Drowning Shark was a good book. I found the plot intriguing and to the point. I never found myself bored while reading it, and the way the story continuously built up held my interest. The protagonist, Sierra, is a likeable teenage girl who shows strength, intelligence, and independence. Despite her unusual life, she was easy to relate to. One aspect I did not like about this novel was that some of the situations became unrealistic and confusing at times. I did love how this book touches on issues in modern society, like shark finning and poaching, and included many facts and information about them. Overall, I would strongly recommend The Drowning Shark because it addresses important issues, has a strong female protagonist, and is full of exciting adventures.
Explain your content rating:
This novel does not contain any harsh language or mature topics.
KEYWORDS
CHARACTERISTICS AND EMOTIONS:
ACTIVITIES, HOBBIES, PLACES, AND EVENTS: