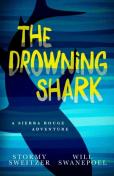 When her mother dies unexpectedly, fifteen-year-old Sierra Rouge travels to South Africa, a country she's never been to, to live with her celebrity chef father, a man she barely knows.

During a boat tour, she learns from local activists that dead sharks are washing up on the shore without their fins.

Sierra decides to take matters into her own hands to find the people responsible. In her efforts to bring down the shark finning operation, the past sneaks up on her and she discovers that there may be more to her mother's death--and life--than she realized.

A fast-paced adventure novel rooted in a real-life environmental challenge, The Drowning Shark is the story of one girl's quest to discover answers, find a new sense of normal, and do good in the world.