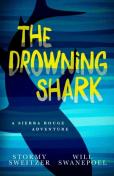 Student Review
Sierra is an extraordinary fifteen-year-old girl. In fact, at her young age, she has already traveled the world and has numerous skills that make her quite unique. She uses these skills to assist her mother is preventing damage to the earth.
Tragically, her mother dies in a car accident, forcing Sierra into a completely new way of life. She tries to adjust to having a normal life, which is understandably hard for someone accustomed to a life of adventure.
However, it's not long before she finds herself in the middle of something very big. This time it has to do with stopping those responsible for killing sharks and using their fins for soup. While she tackles this problem, she also learns about herself and her family. With all of these challenges, she will have to use every skill she has to make it out of this dilemma.
Opinion:
This book discussed topics I have a real interest in, and it approached them in a very serious way. After all, cruelty to animals is nothing to laugh about. Not only was it good to see a novel that discussed this topic, I also learned a lot while reading it.
I really enjoyed how fast-paced this novel was; it kept me interested and engaged. I also enjoyed the characters. I was able to connect with them despite the incredible situations they found themselves in. This book got me excited for any future adventures with these characters.
Explain your content rating:
There is some intimacy as well as some blood but nothing too bad.
KEYWORDS
CHARACTERISTICS AND EMOTIONS: