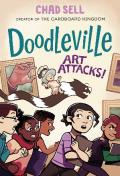 LitPick Review

Doodleville #2: Art Attacks! is a story about a kid named Drew and her friends. In this story, doodles can move on their own, if you draw food they can eat and dress in clothes they can wear. One day, one of Drew's doodles named Mike took a hat from a century-old painting from The Art Institute of Chicago. Then Drew sends her other doodle named Levi to return the hat, but Levi came back with a baby from a century-old painting. Drew was confused and scared so she called her friends for help. They make a plan to slip the baby back into the Institute the very next day.
Will their plan succeed? Or will their plan lead to more chaos?
Opinion:
In Doodleville #2: Art Attacks! I loved the concept of how the doodles came to life and roamed around among the real world of the main characters. Art is magic, as the children in the story draw, their doodles have different superpowers. For example, Drew's doodle Levi can travel from one place to another in seconds.
The story in this book illustrates how every action has its pros and cons. It also shows that an action that appears to be evil is not always bad; there may be a reason or good explanation behind someone's actions which at first appear to be wrong or evil. If you want to change the evil or wrongdoing of someone, you need to understand that person and make some effort. Love can heal any wound.
Reading the book reminded me of my childhood when we used to fight with each other over disagreements. After talking to our parents we can see things from a different perspective and we then realize our mistake and apologize to our friends. If you read this book carefully, you will find that it is conveying this message to children.
I would recommend Doodleville #2: Art Attacks! as a fun and engaging story with important and positive messages. This book is definitely for young children.
KEYWORDS
CHARACTERISTICS AND EMOTIONS: