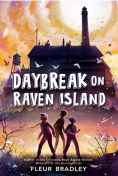 LitPick Review

Marvin, Tori, and Noah don't want to be on their 7th-grade class trip to Raven Island Prison. Tori would rather be on the field with her teammates playing soccer, Marvin wants to be at a film festival, and Noah would rather just be at home than in that creepy prison. The three are paired to be buddies for the field trip and slowly start to build a friendship. However, when they sneak away from the rest of the group into the woods, they notice something very strange: ghosts. They know something very creepy is going on and rush back to find their school group. But when they miss the ferry back, they know they're stuck at Raven Island for the night. Something strange is going on at Ravenclaw Island, and it seems to be connected to Tori, Marvin, and Noah. Will they be able to figure out what's going on and survive the night?
Opinion:
Overall, I liked reading this book. It was very suspenseful, which made the book very exciting and made me want to keep reading. The pacing of the book was pretty fast, but I think that worked well with the suspense. I also liked how each character had their backstory, and we got to see more details about their life and thoughts as the book went on. The narration of the chapters switched between Tori, Marvin, and Noah, which I think added multiple perspectives to the story and gave us more details about what was happening. The author did a great job of describing the settings of the story, which again added to the creepy and mysterious tone of the story. I highly recommend this book to any age group, though it was a little spooky, so it may not be the best for young children.
Explain your content rating:
There is some mature content in this book.
KEYWORDS
CHARACTERISTICS AND EMOTIONS: