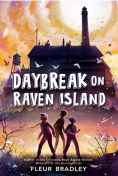 Daybreak on Raven Island
Tori, Marvin, and Noah would rather be anywhere else than on the seventh grade class field trip to Raven Island prison. Tori would rather be on the soccer field, but her bad grades have benched her until further notice; Marvin would rather be at the first day of a film festival with his best friend, Kevin; and Noah isn't looking forward to having to make small talk with his classmates at this new school.

But when the three of them stumble upon a dead body in the woods, miss the last ferry back home, and then have to spend the night on Raven Island, they find that they need each other now more than ever. They must work together to uncover a killer, outrun a motley ghost-hunting crew, and expose the age-old secrets of the island all before daybreak.