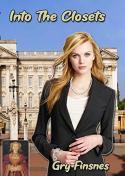 Age Range -
Mature Young Adult
LitPick Review

WATCH THE LITPICK BOOK BRIEF VIDEO!

Set in the 1990s, Into the Closets follows Aurelia, a young woman who applies for a job at Buckingham Palace as a data entry processor to help catalogue the royal art collection. It's not her dream job by any means but one that she hopes will lead to future opportunities. It's also not the most interesting job, despite the location. Her boyfriend, Nick, however, disagrees, hoping to use Aurelia's connections as opportunities to write feature freelance articles to further his journalism career. But when items begin to disappear from the collection, including a priceless Holbein watercolor, Aurelia and Nick are promoted to private detectives to help find the culprit. Together, these amateur sleuths follow every lead possible to catch the thief, restore the painting to its rightful place, and avoid a royal scandal.
Opinion:
Into the Closets isn't so much a mystery novel as it is a traditional caper. Not only do we follow Aurelia's journey but also that of the thief and what leads him to swipe the Queen's priceless painting for his own gains. No one is particularly comfortable in their role. Aurelia is a do-gooder who plays by the rules and becomes paranoid about losing her job, despite the fact that she had nothing to do with the theft. Nick is a fumbling detective who should stick to journalism.
David (a.k.a. Bert) is desperate for independence from his sister, his secret boyfriend, and eventually his role in the heist. So, despite the heroes' inexperience, the thieves are even worse villains who are easy to catch. The meatiest parts of the story are in the historical fun facts, which are seamlessly woven into the plot as Aurelia gets to know her job, her co-workers, and the history behind her position.
The time period is also a welcome element to the story. In a time before the Internet was accessible from anywhere, mobile phones were still a rarity, and most information had to be looked up in books. The 90s also makes itself known in the descriptions of the characters' wardrobes, the news that Prince Charles and Princess Diana have recently divorced, and the lack of security, which aids in the heist.
I recommend Into the Closets to anyone who loves historical fiction, women's fiction, and breezy reads with happy endings.
Explain your content rating:
Some sexual situations and brief language.
KEYWORDS