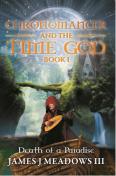 LitPick Review

The story opens on a tranquil scene as a figure paddles through the rain. The person in question, a girl who goes by the name Alethea, arrives at a town near the water. She gets out of her boat and is greeted with hugs, kisses, and general appreciation that she has arrived—it turns out she is a bard. After being wrapped in blankets and showered with love, she is encouraged to tell a story, but not just any story. Those enjoying her performance plead for the story of the Chronomancer. After she performs a spell to darken the room, she begins, setting the story in the land of Zarethea. All is broken, with impending war, evil lurking behind the scenes, and people fighting for control. Although fate seems bleak, there is one who could save the world—a man capable of preventing the world's inevitable demise. Alethea continues through the night, sharing her story with the children in front of her, the adults gathered on the outskirts, and of course with us, the readers of this magical and mystical tale.
Opinion:
Chronomancer and the Time God: Death of a Paradise is a different book than I am used to reading. I have read many books in many genres by many authors who write their books in various ways, but this book is still different. My favorites are adventure books, like Chronomancer and the Time God, and I also enjoy role-playing games, such as Dungeons and Dragons, with my friends—just like the characters in this book. I say this book is different for a multitude of reasons. The first is that it switches the point of view of the narrative more than once, something that took me a while to understand as POV changed. Another difficulty I had while reading was following names of creatures and spells. I love these in other books, like The Lord of the Rings and Harry Potter, but I had trouble remembering which name went with which spell or monster.
Chronomancer and the Time God, however, gave me the freedom to imagine and picture the characters in my head while at the same time giving me a baseline to go off of. The Droma I visualize is probably vastly different from the one the author thought up and then put onto the pages, and I like that. In many well-written books, every little detail is brought to light, and while that can be helpful at times, I like it when some details are left to the imagination.
From its characters to its story line, there is a twist just around the corner the whole way through. It is made very clear that a second book will be out soon. I will try to get my hands on it and hope it continues the intricate narratives of the heroes of this tale. While other books might finish on a cliffhanger but could still stand alone, this book feels, to me at least, like it isn't quite finished. Although it does have a postlude, it still leaves quite a few strings untied at the end. While there are some flaws in this book, it is true that nothing is perfect, and they can be set aside in order to enjoy a story of magic and mystery, of good and evil, and an adventure different from anything I've ever read.
KEYWORDS
CHARACTERISTICS AND EMOTIONS:
ACTIVITIES, HOBBIES, PLACES, AND EVENTS: