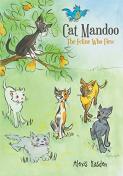 LitPick Review

Cat Mandoo was rescued by his human parents from an animal shelter. When he first arrived at their home, he was extremely shy and uneasy, but in no time, he settled into his new home. The stories that his human mother told him stirred his imagination, and he now has a dream to fly. Will his dream ever become a reality?
Opinion:
Cat Mandoo: The Feline Who Flew was a quirky, funny book about a little cat that has a dream. It was short, but it was the right size for the story that needed to be told. Cat Mandoo was a cute character, and he serves as a role model for readers because he continued to pursue his dream even though his friends were discouraging him. There are many positive messages in this text, but one that stands out is that just because other people think that your dream is silly, don't stop dreaming. I would recommend this book to all ages.
Explain your content rating:
There is nothing inappropriate in this book.
KEYWORDS
CHARACTERISTICS AND EMOTIONS:
ACTIVITIES, HOBBIES, PLACES, AND EVENTS: