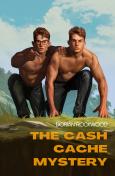 LitPick Review

The Cash Cache Mystery's main characters are Dan and Paul Case, Edward Ridgway, and The Dalton Brothers. This book is about two brothers Dan and Paul who live in a small town named Farmingford. The brothers give a ride to a man named Ambrose Dexter and they drop him off to his destination, but they soon find out that his real name is Edward Ridgway and that he stole money and was hiding it somewhere. While the twins try to find the money and the true Ambrose Dexter, they are kidnapped by the Dalton brothers and then by Edward Ridgway himself. The twins discover many secrets along the way. Will they escape and find the money, and escape to tell the tale?
Opinion:
The Cash Cache Mystery has a great introduction of characters. I liked how we get to know the characters and traits before anything major happens. We know that Dan wants to be an artist, and then we find out that Paul is a boxer and he wears glasses. A few pages later we learn their traits. Dan is kind of shy, he is into mysteries, and he is very intelligent. Paul is more outgoing and isn't afraid to speak his mind. He is also very supportive of his twin.
A factor I found relatable in this book was that Dan and Paul were trying to find the money for their mother and that is what pushed them to try harder. I found it relatable because they were trying to help their mother and I share their passion.
I also liked how this novel is part mystery and part suspense, and that the author was consistent with the mystery/suspense theme throughout. The romance wasn't too much but just enough. There wasn't just one mystery, but many, and the mysteries were all connected to the same topic of finding the missing money.
The pace of the book was way too slow for me. The book did not get interesting until about 100 pages in, which is too long. That is my only negative note about this book.
Overall, I really liked this book. If they make a second book, I would love to see what they will do next.
Explain your content rating:
I choose this rating because there were a few bad words.
KEYWORDS
ACTIVITIES, HOBBIES, PLACES, AND EVENTS: