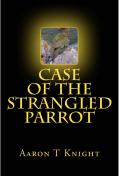 LitPick Review

When a man is murdered in the middle of Lord and Lady Faversham's banquet, everyone is shocked. The man is identified as Winston Smythe, and the guests assume that it was the work of a professional, especially since the death was covered up with the sound of a strangled parrot. Archibald Boathouse is considered the main suspect due to his bad luck and nervous mumbling during the questioning. When pressure builds up from the public to solve the case, Captain Parker-Jones joins Inspector Graham, which causes Inspector Graham to want to solve the case before Captain Parker-Jones can. After Gwen, the daughter of Lord and Lady Faversham, finds out about the case, she decides that she wants to try and solve it as well with her amateur crime-solving partner, Peter. But when the teams start to sabotage each other and more murders happen with false leads and suspects, will they be able to crack the case?
Opinion:
Overall, I really enjoyed reading this book, and I think the plot was interesting and kept me reading. I enjoyed the character development in this book as every character had more than what was initially revealed. This was shown through both their actions as the story progressed as well as the flashbacks given about them. Additionally, I liked the mystery aspect of this story. Although it started off as a basic murder mystery, it really developed into a more complicated storyline, and I found this refreshing compared to other mysteries. One thing that I found a little confusing about this book was how quickly it dove right into the mystery without a lot of context. I think this made the beginning of the story confusing, though things cleared up as you kept reading. I also thought that the ending wrapped up very nicely. There was nothing that I was left wondering about or confused about. Overall, I think this is an excellent book for readers who like mysteries, especially ones that develop as the story goes on!
Explain your content rating:
There was a small number of graphic details in the story.
KEYWORDS
CHARACTERISTICS AND EMOTIONS:
ACTIVITIES, HOBBIES, PLACES, AND EVENTS: