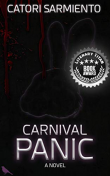 Age Range -
Mature Young Adult
LitPick Review

A group of contestants enter a competition to win a large sum of money, but there's a catch... the game can maim, hurt, and injure but not kill. In a deceptively innocent arena filled with children toys and loud carnival type music, these contestants complete challenges. The game ends when all the challenges are completed by a person or after two weeks. After a challenge is completed, a gift is awarded either sodas, candy, or other partly useful objects.
The six contestants all have different reasons for wanting the money, but all are shocked at the games clash of carnival like fun and obstacles that force them to cut off fingers, lose a leg, and cause burns. As the game goes on it becomes apparent that the game is not just about being smart but also luck and good fortune.
Opinion:
Carnival Panic is a surprising clash of Hunger Games, Escape Room, and Disney that is terrifyingly realistic. There is a shocking amount of gore described in the book. Overall, this is a tiring read because it keeps the reader in suspense, shock, and horror thoughout the whole novel. In the same manner that humans cannot look away from a car crash, I was glued to my screen finishing this book. When I was forced to take a break I felt drained, tired, and confused.
This book is an exciting read that leaves the reader feeling wildly horrified. However, the transitions between flashbacks and the main storyline were confusing, although, that could be due to the format that I read it in. Additionally, there are no up and downs, it is just the prolonged anguish throughout the reading of this book which actually adds to the anxiety felt by reading. Without any breaks the reader feels the same emotions that run through the characters.
The ending is absolutely wonderful because it ends abrubtly and shows the mental damage that such an experience wreaks on a person. For the most part, this book is terrifying, horror-filled, and full of anxiety.
Explain your content rating:
KEYWORDS
CHARACTERISTICS AND EMOTIONS: