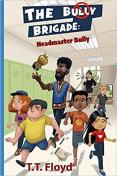 LitPick Review

WATCH THE LITPICK ANIMATED BOOK REVIEW VIDEO!

The Bully Brigade successfully helped a classmate escape the wrath of some parents in The Bully Brigade: There's Something about Cokey Michaels. But now they are facing a bigger problem than they've ever faced before: Principal Strongarm has been replaced! The new principal, Principal Turnbull, is causing division between teachers and students. Silent lunches, job replacements, pay cuts, and more widen the cracks of dissent. However, Principal Turnbull goes further than that. She splits up the Bully Brigade! The Bully Brigade must find a way to join the kids together and show their new principal that kids have a voice. Can they find a way to do that when they aren't allowed to talk to one another during school?
Opinion:
The Bully Brigade: Headmaster Bully is a thrilling book. T.T. Floyd incorporates rhymes throughout the book, which grab the reader's attention. The book encourages kids to think for themselves and shows that everyone has a voice. The kids have a great spirit of unity, and everyone can learn a lot from that. Unfortunately, the adults don't always act realistically or professionally, which detracts from the storyline. Overall, The Bully Brigade: Headmaster Bully encourages empathy for others and propels kids to be advocates for what is right.
Explain your content rating:
There is some bad language, but it is mild.
KEYWORDS
CHARACTERISTICS AND EMOTIONS:
ACTIVITIES, HOBBIES, PLACES, AND EVENTS: