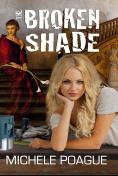 Age Range -
Mature Young Adult
Genre -
Historical Fiction
LitPick Review

It's 1986, and Freja O'Connell has moved to Denver from Las Vegas. She's rid herself of unwanted baggage and is looking to start life anew. Part of her rebuilding involves reconnecting with her family, some new love interests, and an old Victorian home given to her by her father. Although it's not in an excellent living area, Freja is immediately captivated by this home and decides to restore it as best she can to showcase all the beauty and immaculate curb appeal it has to offer. As she goes to work on this fixer-upper, she'll discover that there's more to this house than meets the eye, including a story of love, heartbreak, forgiveness, and an intriguing house guest—one who winds up changing the course of Freja's life forever.
Opinion:
Historical fiction isn't something I'd necessarily gravitate toward, but in this case, I am glad I did. Instantly, I was enthralled with this book from its beginning to its end. I appreciated the plot, the dialogue, the characters, and the imagery. Each of these components accentuates the other to create a fantastic read. The bits of historical information and the idea of the situations within this story being real, according to the author, make me appreciate this novel. The author has drafted some engaging and well-written content.
Explain your content rating:
The Broken Shade involves mature content not suitable for children.
KEYWORDS