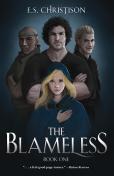 LitPick Review

The Blameless, written by E.S. Christison, is a captivating story of fantasy about a young woman named Brie, more formally known as Princess Briana of Predonia. Brie had lived a life of royalty with her mother, father, and her brother Falen. Just like Brie, Falen was an heir to the family throne. Their family was loved by the community to whom they served until tragedy struck. Brie is forced to escape the castle. After witnessing her entire family being murdered at the hands of a vicious, unknown army, Brie was forced to flee the life she knew.
In the midst of her flee, Brie was rescued by three kind men named Flinton, Derek, and Kove. Once learning of her identity, they all promised to protect her. They claimed to have ties to her father. Having no alternative option, Brie followed the men and trusted her safety in their care. After encountering danger, watching these men fight to defend her, Brie realizes these men are not ordinary people. These men are from a secret society known as The Blameless.
The Blameless are a society of people who have done something extremely selfless in their lives. The Gods identify these individuals and reward them with magical powers that were considered to be gifts. The Blameless use their gifts to help the non-magical people from afar. The non-magical people believe The Blameless are a legend, having no idea that The Blameless still walk among them.
While reading "The Blameless," written by E.S. Christison, the reader will get to follow Brie as she experiences significant tragedy and loss, develops new friendships, and learns about The Blameless. The reader will watch Brie's character become stronger throughout the story while she plots to retake control of her kingdom.
Opinion:
"The Blameless," written by E.S. Christison was a warm chocolate-chip cookie for the soul. It's a challenge to find the words to describe how happy this storyline made me while reading it.
The story had a very nice pace, and once you became engulfed in the storyline, the book was difficult to put down. I adored every descriptive element that the author eloquently entwined to the details of Brie's story. The writing was beautiful, the world was well built, and I loved every character that this novel had to offer. I highly enjoyed reading about Brie as she developed new relationships and made new friends.
These friends, who were part of The Blameless Society, helped her cope with the trauma of losing everything while adjusting to her new life. Flinton's little sister, Cassie, was funny, kind, and the best friend that Brie could have asked for. Kove's little brother, Taeo, shared a close bond with Cassie and Brie as well. His character added a great deal of humor and entertainment to this novel. As the story progressed, Brie continued to develop strong bonds with her rescuers Derek, Flinton, and Kove. Brie's relationship with her protectors was such a key element to the story for she had just met these men and all they wanted was to ensure her safety and well-being. Although these men were all unique in their own way, they shared commonality in the manner which they cared for others while protecting those around them.
I found it fascinating to learn about The Blameless, their magical world, and their people. This was unlike any book I have ever read. It is perfect for pre-teen age groups to adults who like magic, fantasy, and great friendships. I hope others love this book as much as I did!
Explain your content rating:
Perfect for tweens and adults!
KEYWORDS
CHARACTERISTICS AND EMOTIONS: