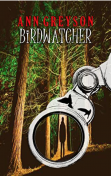 LitPick Review

Birdwatcher starts when eight-year-old Abigail Wincoff and her parents go to the Poconos region for a short vacation. However, their dream vacation quickly turns into a nightmare. One day into their vacation when Abby's mother is asleep and her father is away at town, Abigail decides to do her favorite hobby, birdwatching. As she goes deeper and deeper into the forest, she quickly gets lost and wanders around. Little does she know she is being followed by a serial killer. Three hours later, Abby's mother has woken up and her father is back from town. They both discover that Abby is gone without a trace. They quickly call the police. Will the police ever discover what happened to Abby? Will they find out who did this? Read to find out!
Opinion:
Birdwatcher is a amazing, murder mystery book. There were many things I liked about this book. The first is the pace. The pace was excellent, not too fast, but not too slow, perfect for keeping a reader's attention. The next thing I liked was the plot. The plot was very exciting. The reason that the plot was exciting was because of the many plot twists. The pace and the plot worked together beautifully, and together they made this book a page-turner. There was even a lesson to be had from this book: don't go out alone as a child unless you have permission.
This book was so good that I genuinely struggled to find something bad to say about it!
In short, Birdwatcher is a great, murder mystery story. I give this book 5/5 stars. However, I would only recommend this to 13+ readers because I felt it was a bit dark. Go give this book a read!
Explain your content rating:
A murder mystery book. A bit dark.
KEYWORDS
CHARACTERISTICS AND EMOTIONS:
ACTIVITIES, HOBBIES, PLACES, AND EVENTS: