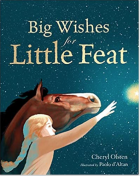 LitPick Review

A horse named Lafitte is waiting for a rider. He knows he can jump really well, but no one wants to buy him because he is too short. So, he waits. Meanwhile, a girl named Ella is staying with her Aunt Anastasia while her parents get things straightened out at her home. As much as she loves Aunt Anastasia, she feels something is missing. What can a wish on a shooting star really do though? Soon enough, both horse and rider will find out.
Opinion:
Big Wishes for Little Feat is a remarkable story about a horse and his rider. But it is also about more than that. It is a story of dreams, hope, and believing anything is possible if you just wait for the right moment. The storyline is easy to follow and beautiful, along with colorful pictures which perfectly complement the story. The vocabulary is too complex for a young child to read by themself, but this book would be a wonderful read aloud to younger grades at school and in the home. The imagery and language help the reader to experience the sights, sounds, and emotions of the character. Big Wishes for Little Feat shows that patience, hope, and a little dreaming can change the world.
Explain your content rating:
There is nothing offensive in this book.
KEYWORDS
CHARACTERISTICS AND EMOTIONS: