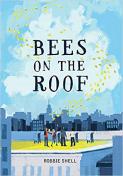 LitPick Review

WATCH THE LITPICK ANIMATED REVIEW VIDEO ON YOUTUBE!

Sam is having a rough time. His father is moody and distracted, a sharp contrast from his usual demeanor, and the school bullies have challenged Sam and his three friends, Matt, Ellie, and Tristen to a competition in the form of the school science fair. His life becomes even worse when he finds out why his father is acting so odd. Sam's father is a pastry chef at a local hotel, but the hotel is not doing well, threatening his father's job and their home. If Sam's father loses his job, they will have to move, possibly to a different city or even state! Sam and his friends come up with an idea that could win the science fair and save his father's job. They can raise bees on the hotel's roof, giving the honey to the hotel! Can four middle schoolers become beekeepers? A lot is at stake.
Opinion:
Bees on the Roof is an inspiring story of four potential beekeepers. The underlying theme of the story is that you are never too young to make a difference. This is a wonderful book with a clear and interesting plot. It inspires people to make a change in their lifestyle, helping create a more sustainable environment. The story is enjoyable and informative but mixes the two so well that it is not choppy. Robbie Shell has accomplished quite a feat with Bees on the Roof.
Explain your content rating:
There is nothing offensive in this book.
KEYWORDS
CHARACTERISTICS AND EMOTIONS:
ACTIVITIES, HOBBIES, PLACES, AND EVENTS: