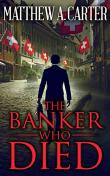 LitPick Review

WATCH THE LITPICK BOOK BRIEF VIDEO ON YOUTUBE!

American banker Stanley McKnight lands a job in Switzerland as a private banker managing the accounts of Laville & Cie's wealthy Russian clients after his mother's untimely death and the dissolution of his marriage. McKnight is chosen to replace his predecessor, who was killed in a freak car accident. His employers note that McKnight's Russian heritage and ability to speak the language are a good match for their largest client, Russian billionaire Viktor Gagarin. The position promises a large salary and bonuses, and soon Stanley finds himself willing to do anything to keep Gagarin happy.
But the endless stream of parties, drugs, and women begin to take its toll on the young banker who finds himself swept up in the corruption and danger that this lifestyle attracts. Caught up in an affair with Gagarin's wife while trying to maintain his ruthless client's trust, Stanley McKnight finds himself in a tug of war game, which leads to numerous secrets and betrayals. He also catches the attention of a mysterious organization of American investigators who have their eye on taking down Gagarin and any others who have profited from his corrupt business practices. Torn between facing serious jail time from the U.S. government or enduring a torturous death at the hands of Gagarin, McKnight ends up running for his freedom and his life.
Opinion:
This book defied my expectations in terms of story and character development. What starts out as a contemporary drama about the high pressure lifestyle of the contemporary banking industry becomes something more sinister when you discover that Stanley McKnight is not your average protagonist. He jumps into his predicament headfirst and without hesitation, intent on earning as much money as possible at any cost. His goal isn't to show off his newfound wealth as much as it is to see how much he can accumulate into his bank account.
As a result, McKnight fails to recognize when the game has caught up to him until it is too late. You don't find yourself rooting for him as much as waiting to see how the train wreck of events will play out as the result of his greed and betrayals. In fact, every character is portrayed as a selfish, damaged person measured in various levels of corruption. The more dangerous their situation gets, the more desperate measures they take.
The book maintains its clear, fast-paced stride to cover a ton of ground as McKnight and his boss, Pierre Lagrange, chase Gagarin all over Europe to comply with his every request before they find themselves running for their lives when $2 billion of Gagarin's money mysteriously goes missing. The end is a delightfully shocking blood bath of torture and revenge that transforms the story from a contemporary drama to a gory, page-turning thriller.
The reader doesn't need to know much about the banking world or its technical jargon in order to understand the more intricate plot details. While several characters who weave in and out of the story are hard to keep track of, the main players are clearly written and maintain their importance throughout the story. I can see this book turning into a hit HBO mini-series for those who love cautionary tales about money, greed, and the price of messing with the wrong people.
Explain your content rating:
Extreme violence, gore, drug use, language, and sexuality throughout the story.
KEYWORDS
ACTIVITIES, HOBBIES, PLACES, AND EVENTS: