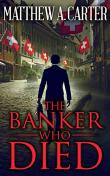 This private Swiss bank is special, and you need to be special to become a part of it.

Founded in the 19th century, Laville & Cie has a long history of private bankers who are experts at keeping the secrets of their ultra-rich clients.

After one of its employees is killed in a car accident, the bank needs someone to take over his Russian clients. These billionaires are a special breed and require a non-standard approach, meaning a banker who is ready to do whatever it takes.

And management has decided that Stanley McKnight is the right man for the job. But as the stakes are raised and Stanley finds himself caught between the tempestuous billionaire Gagarin and the law, does he really have what it takes to keep his head?