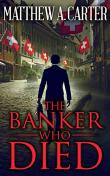 LitPick Review

Stanley McKnight is a little banker in a big world in The Banker Who Died. Stanley used to work as a private banker for Goldman Sachs, but after his outstanding work there caught the attention of the heads of a rival bank, he is soon hired at Laville & Cie. Laville & Cie is a private bank based in Switzerland that caters only to the richest clientele. As such, doing well in their jobs can lead to big money for the bankers themselves. With great reward and prestige, though, comes great risk. As the bank only works with the ultra-rich, the job can be quite dangerous. One wrong investment could lose a patron a significant sum of money. This, in turn, could result in the offending employee getting put on a hit-list. In fact, it is even speculated that the death of a high-level account manager didn't happen by natural circumstances.
Originally only offered the job of senior investment director, Stanley is quickly promoted to the position of one of the bank's account managers for Russian clients. This promotion follows the death of the previously mentioned account manager. Because of the shady nature of his predecessor's death, Stanley begins working at his new position with a heavy degree of trepidation. He is told that this new position mainly involves working with the bank's existing clients, but he will also be required to bring new money and clients into the bank as well. Most importantly, though, is the task of handling one of the bank's top clients, Viktor Gagarin.
Right away, Stanley realizes that this new job is nothing like his work at Goldman Sachs and will require a completely different type of mindset. Working with many of his clients seems hard enough, but it isn't until he meets Gagarin that Stanley realizes just how difficult it will be to accomplish the tasks required of him. Soon, Stanley is confronted with some difficult decisions, including the question of just how far he is willing to go to please his clients and complete his job.
Opinion:
The Banker Who Died was a very intriguing read. I don't think I have ever read a book quite like this one, and I tremendously loved its concept and execution. Sometimes an author will have a hard time giving the characters distinct personalities and they end up just being duplicates of other characters. That definitely wasn't the case here, and the characters all seemed very well fleshed out. Also, I found it easy to keep all the different main characters separate in my mind, which sometimes becomes difficult to do.
I will admit, even though I really enjoyed the whole book, the first two thirds of the book weren't quite as action packed as I would've hoped, which made for a rather long buildup. That piece of the book was definitely interesting, had a decent amount of action, and managed to hold my interest, but I feel like even more action would've spiced it up and helped quite a bit. On the other hand, the last third of the book was perfect. It had tons of action and intrigue, which managed to keep me on the edge of my seat. This last part more than made up for the slightly slower beginning.
While there were a lot of good things about this book, I did notice a few problems with it. For one thing, there were a few minor inconsistencies, which made the book a bit confusing at times. One such example would be when the author said someone was trying to win a special porcelain bowl in an auction, but one page later he said he was trying to win a vase. Also, Stanley told a character two separate times that he needed to go on a trip. The first time, the character seemed to be really angry with him about the trip and actually tried to get him to cancel. Later on, though, the character seemed to have the same conversation with Stanley as if the first had never happened but with a slightly different outcome. Even though these irregularities were a little confusing, they didn't have too great of a negative impact on the book, and in the end, it made for a great read.
Explain your content rating:
There was a decent bit of nudity and sexual content, quite a few uses of the f-word, and a couple really brutal fight scenes.
KEYWORDS
CHARACTERISTICS AND EMOTIONS:
ACTIVITIES, HOBBIES, PLACES, AND EVENTS: