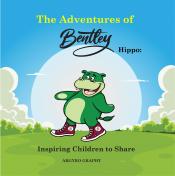 Student Review

WATCH THE LITPICK BOOK BRIEF VIDEO!

One day, all the animals are napping, except Bentley the Hippo. While Bentley is eating ice cream, he hears someone laughing. Who is laughing? He follows the sound to the trees and finds the other hippos. He asks if he can play with them, but the other hippos completely ignore him like he isn't there. The hippos are mad that Bentley is friends with the monkeys because the monkeys throw bananas at the hippos.
Bentley then hears a voice asking him about his ice cream. It's a monkey. The monkey throws a banana at him and says that he's sharing with Bentley. Bentley knows this is not what sharing is. When Bentley goes home, his mother tells him to show Jaxon, the monkey, what sharing is all about, so Bentley sets out to show Jaxon a true act of sharing.
Opinion:
The Adventures of Bentley Hippo: Inspiring Children to Share is an important book because it has a very strong theme, which is sharing. Another element that I liked about this book was that the illustrator created drawings that suited the story very well. The characters were very sweet and showed sharing in a very good way for readers to understand it. I liked that the main characters were animals because it added a fantasy element to the story. There was nothing that I did not like about this book. I would rate this book 5 of 5 stars and recommend it to all ages; it is especially important for younger readers to read this book to understand sharing.
Explain your content rating:
There is nothing offensive in this book.
KEYWORDS
CHARACTERISTICS AND EMOTIONS:
ACTIVITIES, HOBBIES, PLACES, AND EVENTS: