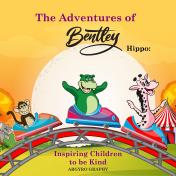 LitPick Review

CLICK HERE! to view LitPick's Book Brief Video for The Adventures of Bentley Hippo: Inspiring Children to Be Kind

Bentley the Hippo and his friends are going on a field trip to the fair. Bentley feels like they're missing someone, and he realizes Tubby the Elephant is not there! Bentley and his friends arrive at the fair without Tubby. When Bentley and his friends go on the Ferris wheel, they spot an elephant. Could that be Tubby? They go to investigate, and it is Tubby. Tubby confesses that he had been bullied by some other animals. Jaxon the Monkey shows Tubby an act of kindness by hugging him. All of Tubby's friends are determined to do something about this, and Bentley teaches the friends about bullying and explains that it is wrong.
Opinion:
The Adventures of Bentley Hippo: Inspiring Children to Be Kind is a very inspiring book that is great for young readers. It encourages them to be kind and teaches that bullying is not okay. The illustrations are amazing and go along very well with the story. I think this book is great, but I like the first book in this series better—The Adventures of Bentley Hippo: Inspiring Children to Share, which provides examples for sharing. Overall, I recommend both books to all ages, but this series is geared more toward younger readers.
Explain your content rating:
There is nothing offensive in this book.
KEYWORDS
CHARACTERISTICS AND EMOTIONS:
ACTIVITIES, HOBBIES, PLACES, AND EVENTS: