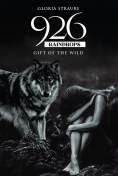 LitPick Review

The book 926 Raindrops - Gift of the Wild starts off talking about the author's childhood and shows her growth through narrating various events and milestones in her life. Gloria always knew she was different from other kids, having grown up in a household with very nontrinitarian beliefs. While other kids her age played with cats and dogs, Gloria was attracted to tadpoles and kept them in jars around her house. As Gloria grew into her teenage years, she still had a very strong relationship with nature, specifically the sea and rain, and especially leaned on this during her parents' fighting. The narration of Gloria's life continues, and we see her experience college, getting a job, and even her first heartbreak. The book continues to show the many experiences Gloria has in life, expressing her emotions through similes connected to nature.
Opinion:
Overall, I really enjoyed this book, and I feel that it showcased a lot of life lessons. For example, we learn a lot about trust in this book as we can see how Gloria's trust is broken, but also how she learns to regain that trust. Additionally, this book also teaches us about self-love, showcasing this through Gloria's childhood. The author also had a very nice style of writing, and the many similes and metaphors made the paragraphs flow together well, which made it easy to read and understand the story. Another thing I liked about the author's style of writing was the specific events in Gloria's life that were chosen to be written about. Experiencing your parents fighting, getting your first job, and losing a child were such real and raw parts of Gloria's story that really gave us insight into her life. The one thing that I did not like about this book was that the pace changed very quickly, and this made it a little hard to understand when a transition was happening into a different scene. I would recommend this book to older teens and adults as the book teaches amazing life lessons, but I feel that some of the topics are on the heavier side.
Explain your content rating:
There was a few heavy topics discussed in this book.
KEYWORDS
CHARACTERISTICS AND EMOTIONS:
ACTIVITIES, HOBBIES, PLACES, AND EVENTS: