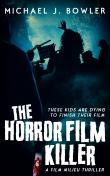 The Horror Film Killer
What would you do if someone acted out—for real— the kill scenes from your student-made horror film?

That's the dilemma facing high school seniors Cassie and Donovan. Best friends, aspiring filmmakers, and hopeful romantic partners, they set out to complete a feature-length horror film as a graduation project for their performing arts high school. Using actors and crew from among their classmates, they aim to finish the bulk of shooting over Spring Break. When several murders occur not far from their locations—each one recreating a specific "kill" scene from their script—they suddenly find themselves embroiled in a real-life horror movie neither of them bargained for.

Cassie's police officer dad and his ex-girlfriend—a homicide detective Cassie once hoped would be her stepmom—allow the film shoot to continue because the killer has threatened to murder Donovan's mother if they stop. Traps are set and arrests are made, but the killer—who might be a member of the cast or crew—is one step ahead of their every move.

Can Cassie and Donovan help the police unmask the psychopath before more people die?