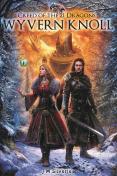 LitPick Review

It's nothing more than myth and legend, a story grizzled warriors tell around the campfire to the young and gullible. Dragons never existed. The All Tree is nothing but a fairytale. There is no such thing as other worlds or dangerous people attempting to get here from them.
Well…at least that's what everyone's been told.
Oranyon, the Lady Mage of Wyvern Knoll, certainly doesn't believe in any of these myths. She believes in her magic and her Buzzwig and the peace of being back at her uncle's estate to practice among those she knows. After enduring ridicule and bullying at the Mage Tower during her eight years of training, Oranyon is enjoying the simplicity and calm of her life back at Wyvern Knoll. That is until her uncle assigns her Thorin, Captain of the Guard, and her protector while practicing magic. Immediately she knows there is something different about Thorin. He is able to channel her magic through his own eyes and understands the complex glyphs and symbols as they are unscrambled by Buzzwig. Using this connection, he is able to direct his men in assistance to Oranyon in a way others could not. But Oranyon and Thorin's relationship is about to become more complicated. Because Thorin is not just special, he holds a Dragon Mark, and the reason he is so connected to Oranyon is because she is a descendent of the Dragon Mages of ancient past. Because dragons are real, very real.
Everything Oranyon thought is about to be turned inside out, can she accept her connection to Thorin in time to save the life she has only begun to love? What about the secrets of the All Tree that Thorin is bound to protect? Will their magic be enough to save themselves, let alone the rest of their world?
Opinion:
Wyvern Knoll (Creed of the 21 Dragons) is an adventure, a mystery, and a romance skillfully tied up together! Immediately you are dropped into the world of Oranyon and instantly you believe in the presence of magic and other gods and kings and lords and ladies and dragons. Easily you are invested in Oranyon's life and the tasks that are set before her. The character is written beautifully, in a way that until her gender is revealed you don't even think about which gender she is - which says a lot about the building of the character's psyche. The romance between Oranyon and Thorin is established early in the book but is not overwhelming to the main adventure/mystery being put forth. It is a nice, sweet aside that lends to understanding more of the characters' motives as they move forward. I think the magic and the history being presented in the novel is also very believable for a world. Nothing is overdone or over-explained in a way that makes it feel forced. It simply is.
I am looking forward to where this will go in the next book, I would like the romance between the main characters expanded (as it was unable to due to storyline in this one) and I would like to know more about this battle and how it connects to Oranyon.
I think anyone ages 12 and up, boys or girls, would enjoy reading this novel; especially anyone interested in magic, other worlds, alternate history, or dragons.
Explain your content rating:
Discussions of sex in terms of being a virgin prior to their wedding night and then after so her magic will work. Otherwise just kissing.
KEYWORDS
CHARACTERISTICS AND EMOTIONS:
ACTIVITIES, HOBBIES, PLACES, AND EVENTS: