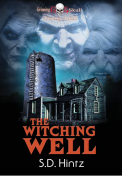 Age Range -
Mature Young Adult
LitPick Review

Thirteen year old Murray just lost his mother to a tragedy. Still grieving over his mother's unfortunate death, he moves to Windom, Minnesota to live with his grandmother who he has not seen for a long time. In Windom, strange things happen unnerving Murray. He is told to keep his distance from neighbors who hate children for some unknown reason. This is enough to haunt Murray, the only child right now who is living in Windom. Uncovering his own grandmother's own secrets, he sees a boy who has been kidnapped by evil witches. Murray is accused of being a liar, using his imagination to make up stories. Mr. Cab, a fellow neighbor, is the only person who supports Murray in his tough times and believes him through everything. With danger now following him, will Murray save himself and others living in the town from evil's clutches before it is too late?
Opinion:
The book is fast-paced, light-hearted, intriguing, and full of suspense. On the negative side, I feel the author could have done some tighter editing for the boring parts and made the important scenes alone reflect in the book more. The narrative is easy to follow, and the book tends to be a good read where the evil loses its power to good. With very few characters, the author has weaved a beautiful story with them. I recommend this book to young readers to adults.
Explain your content rating:
The book is a thriller with no adult content or violence in graphic detail.
KEYWORDS