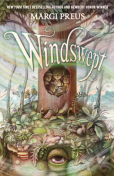 LitPick Review

Tag-a-long, or Tag for short, has never known anything except the inside of her home and the good-natured fun of her older sisters surrounding her, until one day when the dreaded winds come and take away her sisters. The youngers, or children, are not allowed to go outside, and Tag watches as her sisters break the rules and decide to go outside only to then become windswept to who knows where. For several years after her sisters disappear, Tag tries to put the pieces together about what really happened to them. Her mother just won't give her honest answers, and Tag is even more convinced something is not quite right about the fear the people have of the youngers going outside when she finds a book of banned fairy tales and secret items in her attic. So Tag finds a way out of the attic window and over the wall out into the forest and begins a trip to find her sisters. She ends up meeting up with some other brave youngers and together they face off with the dreaded secrets that are along their path into the mountains where their siblings may have been windswept. Will Tag and her friends find their siblings before it is too late, and will they learn that sometimes the things we are told to fear are not really as dreadful as we may think they are in the end?
Opinion:
This is a wonderfully imaginative, modern fairy tale. The main character, a curious thirteen year old, learns to become a leader of the youngers. She finds her own strengths while most of her life she was a follower since she was the youngest child in her family. This book teaches children that finding what is true may require us to look just beyond our fears and misconceptions. The author also included a reference list that contained the fairy tales that she borrowed from throughout the story as well as an author's note about her childhood experiences and Norwegian fairy tales that influence her writing today. It was interesting to learn about the author's perspective because it made the story even more unique.
Explain your content rating:
This book did not contain anything that would be considered offensive.
KEYWORDS
CHARACTERISTICS AND EMOTIONS: