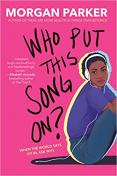 LitPick Review

Who Put This Song On? follows a black, depressed, 17-year-old teen named Morgan Parker. She is one of the few black teenagers at her Christian high school and has had many instances where she's the only black kid who participates in after-school activities such as sleepovers and hanging out. Morgan has to put up with racist comments and often feels like an outsider because of her race. Even though she has a couple of good friends, they still don't understand how depressed and left out she feels because she is not comfortable confiding in them, and she fears they will not understand her perspective. She is always down on herself and lacks self-confidence, but she slowly gets better throughout the book with a little help from her therapist Susan. In the end, Morgan learns more about her self-worth and tries to be more positive in her perceptions of her environment.
Opinion:
Who Put This Song On? is a great contemporary book that many people can relate to. This book can be relatable because a potential reader could be going through a similar situation as Morgan and thus feel connected to the story. The plot in this novel was a little slow because this book does not have normal novel structure since the author based the book off of her own life. However, it kept me interested, and I wanted to keep on reading about Morgan's life. I generally like more of a plot-driven book that has a little more twists and turns, but this story is very unique, and I love to read something different. The only character I really cared for was Morgan because I got more connected and interested in her than the other characters. I also liked the writing style the author created because it was very easy to read and was detailed. The dialogue was perfectly believable between characters although some readers might find it a little outdated since the book is set in 2008-2009. Overall, Who Put This Song On? is an enjoyable story that many readers would love.
Explain your content rating:
There is some mature content such as talk of suicide and suicidal thoughts, use of alcohol and drugs, and attempted sexual abuse.
KEYWORDS
CHARACTERISTICS AND EMOTIONS:
ACTIVITIES, HOBBIES, PLACES, AND EVENTS: